I love road trips and my recent road trip through Europe was like none I've ever done. Road trips, for me, are the best way to experience a country. The flexibility of pick up and go beats any other mode of transport. Hayden ( my husband) loves driving and I love being a co-passenger.

The trill of a road trip started when we visited the US in 2015 where we drive from LA to Vegas. That's when we got hooked on renting a car and road tripping. The following year we did another road trip when we visited Austria and that when we got hooked. When you think Austria the first thing few places that come to mind is Salzburg or Vienna.

That being the case on our first road trip in Austria we avoided these places. Fast forward 3 years, we decided on another road trip to Europe but this time to see more places in different countries. Our aim was to pace ourselves through the trip and not rush through the holiday trying to do so much that we felt we needed another holiday just to recover.

In this post, I will share all the places we drove to, the amazing hotels we stayed in and the palaces that we saw; an itinerary of sorts. Although many of these places are tourist hot spots, we avoided the tourist sights.

Let's get started then.

Day 1 – Landed in Austria
We landed in Vienna at 7 pm and booked ourselves a room at the Moxy hotel just a 7 min walk from arrivals. It's an airport hotel and was meant to be a night stop before we picked up our car from the airport the next day.
Hotel: Moxy Hotel

Day 2 – Berchtesgaden, Germany

The main purpose of the stop was to go to see the eagles nest. The eagle's nest was built for Hitler as a backup location In case Berlin fell during the allied invasion. It's built on top of a mountain close to the German Austrian border.

During our trip to Germany in Dec 2018, we visited the Eagle's nest only for it to be closed. So this time, 5 months later, we were confident we'd be able to see it. Unfortunately, we didn't!!! it was still closed due to the snow and unstable weather atop the mountain.
Making the best of a situation and that we had a car, we decided to drive to Ramsau – A nearby town. The main attractions is The Church of St. Sebastian built in 1512.

We visited Ramsou in 2016, and coming back to the place, we had this sense of being blessed to have the opportunity to visit the place again

Hotel: Hotel Schwabenwirt
Places we visited
Ramsou
Untersbergbahn, Austria
Beautiful Ramsau, Germany

View from the
Untersbergbahn cable car, Austria


View from the
Untersbergbahn cable car, Austria


Untersbergbahn View from Top, Austria
Day 3 – Interlaken, Switzerland

We headed to Interlaken, Switzerland. Interlaken, as you may know, is one of those places that is breathtaking. If you haven't seen or heard of Interlaken, take some time to google pictures of the place. It's rated as one of the best places to see and to be in.

Note: when entering Switzerland you need to buy a highway sticker called a Vingette. It cost 40 euros and having it allows you to drive on the highways of Switzerland. It's essentially a one time toll and it's valid for the year.

Hotel : We stayed at the Brienzersee hotel.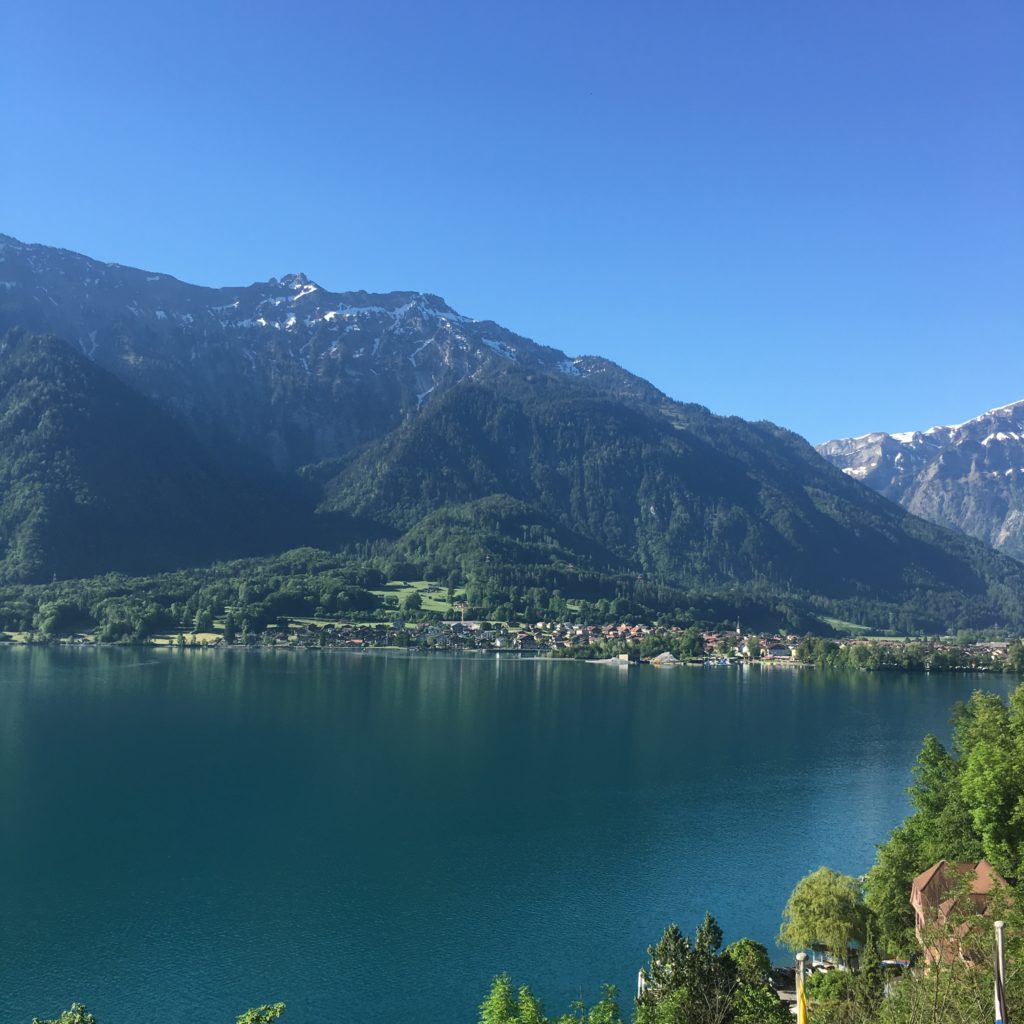 I've stayed at many, many hotels over the last 7 years. From 5-star properties on the beach to hotel islands in the Maldives, but nothing comes close to the view of this hotel. With a view of the lake with the mountains in the background, this by far one of the best hotels, in terms of a view, we stayed at; or that's what we thought.

Being in Interlaken here were some of the things we did

Places we saw
Weissenau Castle
Spent a day at Blausee Nature Park
Drive to Grindelwald and Lauterbrunnen

Blausee Nature Park, Switzerland


Blausee Nature Park, Switzerland


Blausee Nature Park, Switzerland

Lauterbrunnen Waterfall, Switzerland
Day 6 – Lake Como – Italy
We checked out of the hotel and started our drive to Lake Como -Italy. This 6-hour drive was brutal to sit through but the snacks and views helped.

Lake Como has become a popular holiday destination for many; thanks, George Clooney. This beautiful destination has a lot to offer. From the sights to food, wine and friendly people.

We reached our hotel by 3 pm and had the day to relax and unwind.

Hotel: We stayed at the Clarion Collection Hotel Grisco Lecco hotel.
The view of the lake and the mountains in the background was excellent (nothing compared to our Interlaken Hotel tho). But the hotel itself was great. From the big rooms to the breakfast spread and great staff made the experience a pleasant one.

Places we saw
The town of Bellagio – With its narrow streets and cobbled lanes, the town of Bellagio is a must visit.
Verbena castle

The town of Bellagio, Lake Como, Italy


The town of Bellagio, Lake Comoo, Italy


Bellagio from Lake Como, Italy

Lake Como, Itay
Day 8 – Siena, Tuscany, Italy
We were excited about this part of the trip. There is a certain image the name Tuscany conjures up in the mind. From the rolling green hills to the tall trees to the gravel roads; that image is a place called Siena.

Siena has so much to offer. From wine tasting to pizza making to exploring walled functioning medieval townships; Siena is the perfect blend of the old and the new.

Hotel: Hotel Palazzuolo
Places we saw

Fortezza di Radicofani
Cappella della madonna di vitaleta
Valdichiana Outlet mall

Cappella della madonna di vitaleta, Italy


Fortezza di Radicofani, Italy

Siena, Italy


Siena, Italy
Day 11 – Innsbruck, Austria
This was the last massive leg of the road trip. This 10-hour long drive took us through some of the most beautiful routes of the whole trip. Driving through the valleys of Trento, up through the Alps of Austria. Innsbruck is in the state of Tirol, and Tirol is a jaw-droppingly beautiful place. From treks to mountains passes, to mountain lakes this is the place.

If there is any part of this whole trip we'd like to do again, It's Tirol.

Hotel – Barenwirth

Places we Saw
Trekked up to lake Obernberger See
Silvretta High Alpine Road Drive
Matzen Park

Matzen Park, Austria


Matzen Park,
Austria

Obernberger See,
Austria

Obernberger See,
Austria


Obernberger See Trek,
Austria


Obernberger See,
Austria

Sunset in Tirol,
Austria

Room with a view – Tirol Austria – Hotel
Barenwirth
Day 13 – Drive to Salzburg

Now, by the time we got to Salzburg, we were done! It's been almost 13-days of being on the road we were done. Tired and exhausted. So instead of cramming in a lot of stuff do or see, we went to spend a day in Hallstatt and spent the remaining 2 days sleeping in 🙂

Hotel – Cool Mama ( Yep, that's the name of the hotel)

After Salzburg, we drove back to Vienna the final drive of the road trip. The drive was sombre and gave us time to reflect on the beauty we experienced and how it made us feel.
For our last night, we stayed at the Moxy Hotel the same hotel where the trip first started.
I hope you enjoyed reading the post and I hope some of these destinations feature in your travel plans. Leave me a comment if you want any more information on our holiday.